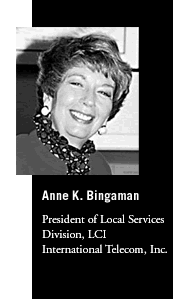 On information and belief, in or about October 1998, Winnick, Cook, and GCL retained Anne Bingaman on behalf of GCL to lobby directly, and to exploit Jeff Bingaman's influence as a democratic senator with, the Federal Communications Commission ("FCC"), the White House Council of Economic Advisors, the National Economic Council, and/or the U.S. Trade Representative, and paid her at least $2.5 million during the first half of 1999.
On information and belief, as set forth more fully below, Anne Bingaman and Jeff Bingaman knowingly and willingly joined themselves to the agreement, combination, and conspiracy among the Director and Officer Defendants to inflate and enhance artificially GCL's income and the market for GCL's stock.
Anne Bingaman & Jeff Bingaman (D-NM) are as direct or indirect participants, aiders and abettors, and co-conspirators in the unlawful, unfair, and fraudulent acts, omissions, and schemes. (Source: Judicial Watch, May 6, 2002; "
HOWARD B. THOMPSON, et. al. v. LI KA-SHING; GARY K. WINNICK, et. al.
")